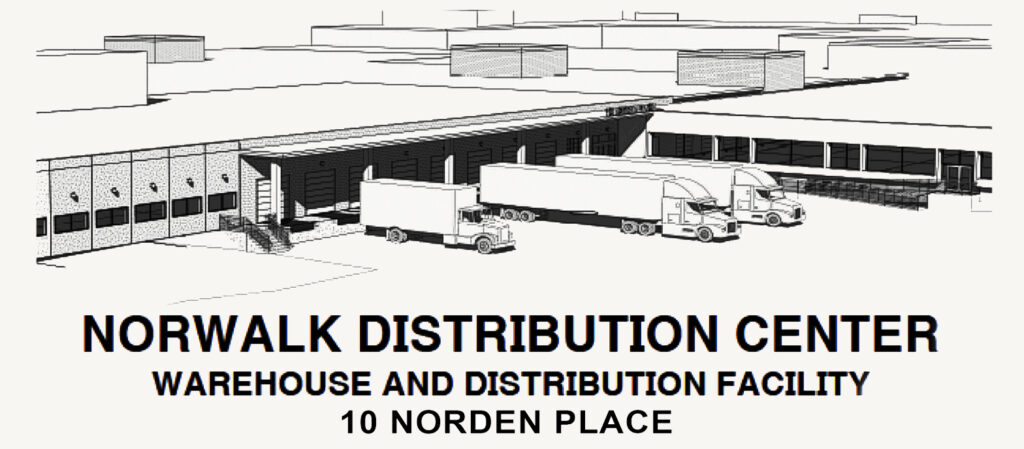 06-20SP Special Zoning Permit Application
What is this Warehouse/Distribution Center at Norden Place all about?
A development team (the Applicant) has proposed renovating & re-purposing 330,000sf of the existing 635,430sf structure at 10 Norden Place in Norden Park. This parcel is within the City's Restricted Industrial Zone. The new use, for warehouse/distribution center, is not currently allowed except by Special Permit. The Applicant applied for a Special Permit in June of this year. The Zoning Commission has this application under consideration now, and must decide soon whether to approve it. East Norwalk Neighborhood Association is OPPOSED to this Application. We are urging residents to OPPOSE it. Information on how is at the end of this document. (continued)
Where exactly is it?
Norden Park is in East Norwalk, off of Norden Place which is off of Strawberry Hill Avenue. The parcel is bordered by I-95 to the north, and by MetroNorth railroad to the south. Immediately beyond both the highway and the railroad tracks is 100% residential. To the east is Avalon East Norwalk and to the west is Woodside Commons. Beyond both of those is also 100% residential.
The site is limited to two access points, both residential: from Winfield Street to Triangle Street on the southeast side, and from Strawberry Hill Ave to Norden Place on the southwest side.
Who is applying for this Special Permit?
The Applicants are registered as Norden Place KB LLC and consists of KABR and Beneroff Properties. A third investment partner, Dune, was recently identified in the local media.They describe their business as a NYC-based real estate investment firm.
What will be the nature of the business?
This operation is described as "Warehouse/Wholesale Distribution Center" that will lease the 330,000sf of space to two tenants. Though the tenants hae not been disclosed, the Applicant contends that the businesses will be strictly warehousing and distribution of products in the Business-to-Business sector, and NOT Business-to-Consumer or "final mile" deliveries. The Applicant has not identified the tenants, but has presented the renovations plan as being for (2) large warehousing spaces in the building along with some office space. Because the Applicant has not disclosed the known or prospective tenants at this time, it is not possible to determine the nature of their businesses, their products, or their operations models.
Will these result in a lot of trucks going to and from the site?
Yes, and because this business is classified as a "Major Traffic Generator", the applicants had to prepare and submit a complete traffic analysis, including estimated truck traffic (based on the national standard for trip generation from the Institute of Traffic Engineers "ITE") to the State of CT Department of Transportation and Office of State Traffic Administration (OSTA). However, the State only reviews the traffic impact that relates to State roads and highways. No one from the State or City is required to, or bothered to, study the impact on all the local roads.
According to the Applicant, OSTA has reviewed and approved (3) truck routes. See below.
So just HOW MANY TRUCKS? And where are these three "truck routes"?
According to the Applicant's Traffic Engineers, the operations are estimating approximately 99 trucks inbound and 99 trucks outbound, per day, totaling 198 "truck trips", at rate of 10 per hour depending on peak travel times. The Applicant also predicts that the majority of the trucks will be tractor trailers, mostly the larger ones with lengths of 62' and weighing 40,000 to 80,000 pounds empty and fully loaded, respectively.
These are only estimates based on the ITE Standards for a use designated as "Warehousing". NOTE: The ITE has not set standards for determining trip generation for Distribution Centers. Therefore, because distribution is more active than warehousing, involving multiple supplies and customer, it is reasonable to assume the truck trips could be significantly higher.
And where are these three truck routes?
The Applicant had presented three trucks routes to the State DOT and OSTA.
Primary route:
To/From I95 North & South Tractor Trailers & Box Trucks: Exit 16 East Ave to Fitch St. to Strawberry Hill to Norden Pl
Secondary route:
To/From I95 North & South Tractor Trailers: Exit 17 Saugatuck Ave to US-1 to Strawberry Hill to Norden Pl.
To/From I95 North & South Box Trucks: Exit 17 Saugatuck Ave to Winfield to Triangle to Norden
Tertiary route:
To/From South Norwalk, Route 7 Box Trucks: Winfield to East to Van Zant to Washington to West Ave to I95/7s
How will 62′ tractor trailers be able to make these turns?
Almost every intersection on both the Primary and Secondary routes are not easily or safely maneuvered by tractor trailers. The turn radius is not sufficient, and the Applicant's own traffic study suggests that at many of the intersections the trucks must wait for the side opposing car queues to clear. This also includes vehicles backing up to give way to an oncoming, turning truck.
And this is important: not every intersection that is impacted was studied! Only the 5 intersections closest to the site were included*. And when the city's handpicked peer review traffic experts asked why, the Applicant added 4** more BUT none of those include any turning! In fact, only 2 of the 9 intersections include turns that aren't directly in/out of the site. There was no study done on the turn intersections, including the most difficult and dangerous to maneuver***.
*1. Strawberry Hill Avenue and Beacon Street (signalized) 2. Strawberry Hill Avenue and Norden Place (signalized) 3. Norden Place and Northern Site Driveway (unsignalized) 4. Norden Place and Southern Site Driveway (modified driveway; unsignalized) 5. Triangle Street and Route 136/Winfield Street (signalized)
Page 3: As part of the initial review, WSP recommended the addition of various intersections as part of the study area, mainly in terms of safety. The applicant provided responses and the addition of the following four intersections: 1
**1. Strawberry Hill Avenue and County Street (signalized) 2. Strawberry Hill Avenue and King Street (unsignalized) 3. Strawberry Hill Avenue and Walter Avenue (signalized) 4. Strawberry Hill Avenue and William Street (unsignalized)
*** Exit 16 N/S onto East Ave; East Ave to/from Fitch; Fitch to Strawberry; US-1 to/from Strawberry
Are there safety concerns with having so many big rigs on our residential roads?
Yes! The primary route has tractor trailers passing 3 public schools and 1 private pre-school on Strawberry Hill. Picture parents & children walking and biking to school. Or the many cars in and out during start school and end. There is minimal buffer between pedestrian and truck travel lanes, and none between cyclists.
Consider these startling statistics from the USDOT 2014 Data on Large Trucks:
– 84% of fatal crashes and 88% of nonfatal crashes involving large trucks occurred on weekdays (Monday – Friday).
– Bicyclists and pedestrians made up 9.4% of all people killed in crashes involving large trucks in 2014.
How will this impact East Norwalk residents?
This application (if approved) will have dramatic, long-term affects on our residents and the East Norwalk community, including quality of life issues such as environmental, safety, traffic, noise, and congestion all impact us daily, and our property values in the long run.
Why should I care?
If you live in East Norwalk, you may want to really care. Your day to day life including walking, biking, driving, and just plain enjoying your own yard could be impacted. If you own your home, values could plunge especially the closer you are to one of the truck routes. Plus, if this application is approved in this Industrial Zone, there is no limit to how many more 330,000sf distribution centers (or larger) could be built in East Norwalk's Industrial Zones.
And if you live anywhere in Norwalk that has an Industrial Zone, this same situation could happen to you. Tomorrow. Permanently.
But don't we want more industry and good jobs?
Of course it's great to bring in industry, especially if it helps to increase the Grand List and provide much needed tax revenue. And more jobs for Norwalkers would be great. But NOT if the industry doesn't produce those tax revenues or the jobs don't ever materialize. And the jobs can't be guaranteed to exist in the future, nor is there any requirement to hire Norwalkers. The Applicant is estimating 100-165 jobs at the location, but there is no guarantee, especially if future automation is planned.
OKAY, SO WHAT'S THE BOTTOM LINE?
This Special Permit Application …
• DOES NOTHING TO BENEFIT NORWALK OR NORWALK RESIDENTS.
• WILL ALLOW A USE THAT RESULTS IN HUNDREDS OF TRUCKS ON OUR RESIDENTIAL ROADS, EVERY SINGLE DAY.
• INCREASES AIR POLLUTION
• INCREASES NOISE POLLUTION
• CREATES DISRUPTIONS TO EVERY RESIDENTIAL STREET IN THE AREA
• CREATES A TRAGEDY WAITING TO HAPPEN ON STRAWBERRY HILL
• NEGATIVELY IMPACTS RESIDENTIAL PROPERTY VALUES
• WILL RUIN THE QUIET ENJOYMENT OF OUR HOMES THAT OUR ZONING IS SUPPOSED TO PROTECT
What can I do to help stop this?
• You can attend and speak at the virtual Public Hearing(s)
• You can email the Zoning Commission and insist they vote NO
• You can sign the online opposition petition
• You can place a No More Traffic in East Norwalk lawn sign in your yard
How do I do all this?
Attend the public hearing. Info will be provided to subscribers of our community newsletter.
Email the Norwalk Zoning Commission. Address your email to Chairman Louis Schulman and send it in care of P&Z Director Steve Kleppin at skleppin@norwalkct.org
And you can copy:
Mayor Rilling at hrilling@norwalkct.org
Council Members Kydes & Theodoridis jkydes@norwalkct.org & gtheodoridis@norwalkct.org
Sign the Opposition Petition at https://www.ipetitions.com/petition/no-more-trucks-east-norwalk
Please share with your neighbors and ask them to sign up asap for the ENNA emails. www.eastnorwalk.org or info@eastnorwalk.org
If you want more information: